Photos and Article by Kathleen Trestka - The Daily Clipper - 2/1/2017
The history of art is filled with stories of altruistic people who have donated their time and energy to bringing the fine arts to their communities. The Helen Bumpus Gallery is a prime example of a collection of women and men who have made a similar commitment, giving of themselves to further the visual arts.
The paintings, photographs and drawings by six members of the Bumpus Gallery's Board of Directors, who work year round to bring exhibitions by regional artists to Duxbury, are currently on exhibit at the gallery.
The board members, who are each fine artists themselves, selflessly organize exhibitions for other artists, as well as provide other community services such as the scholarship program for Duxbury High School graduating seniors. In the Board Members' Exhibition on display during January and February celebrates the art of four photographers and two painters, who work in pen and ink, pastels, and acrylics.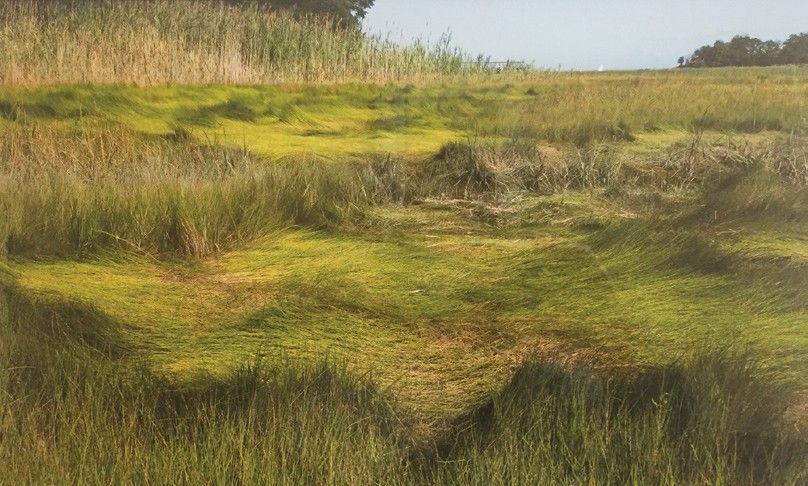 In Joan Collins' photograph "Whimsy," shapes constructed of a multitude of repeated lines and juxtaposed in oppositional directions both organize and energize the monochromatic spaces. The repetition of lines that runs off the edges within each of her photographs expands the imagery outward in a continual flow that potentially reaches toward infinity.
In "The Home Stretch," Diane Monaghan uses a warm palette of red, orange and yellow acrylics to heat up an image in which three jockeys race their horses straight toward the viewer. Horses and people are constructed of loosely painted forms that are abstract up close but read as realistic from a distance as they move over a background of collaged pages of text in a dynamic figure/ground relationship. Monaghan also works with the drawing materials of dry pastels and pen and ink in her other works that are both scenic and figurative in nature.
Ruth Jensen paints a world blanketed in white in "The Morning After." Judith Montminy's five photographs are grounded in mystery. "Waiting for the Elevator" is reduced to a simplicity of form so saturated with ochres, sepias and umbers that it almost hums with a golden silence. A strong vertical line or form placed slightly off-center in several of her photographs grounds each image in a here-and-now reality that allows the viewer passage into surreal worlds dominated by a stark sensuality.
Robert Montminy has three photographs in the exhibition, two of which use a square format. The square historically in art is most often associated with the cerebral, and here it works to hold solid space in which singular forms have their say. The two elements of line and texture in "Red Stitches" dominate in a minimalism that is at once both satisfying and richly evocative.
One acrylic and four pastel paintings by Ruth Jensen all contain a diagonal line to enliven a horizontal view of the world. Whether in a line of breaking waves or a cart full of colorful globes, a directional line that is strategically placed slightly off the diagonal axis is employed as a design element to activate a seemingly serene scene. In Jensen's snow-covered world in which a row of chairs is blanketed in white quiet in "The Morning After," a strong diagonal of burnt umber along with other subtle diagonals slice through the pale hues to wake up a world slumbering in wonder.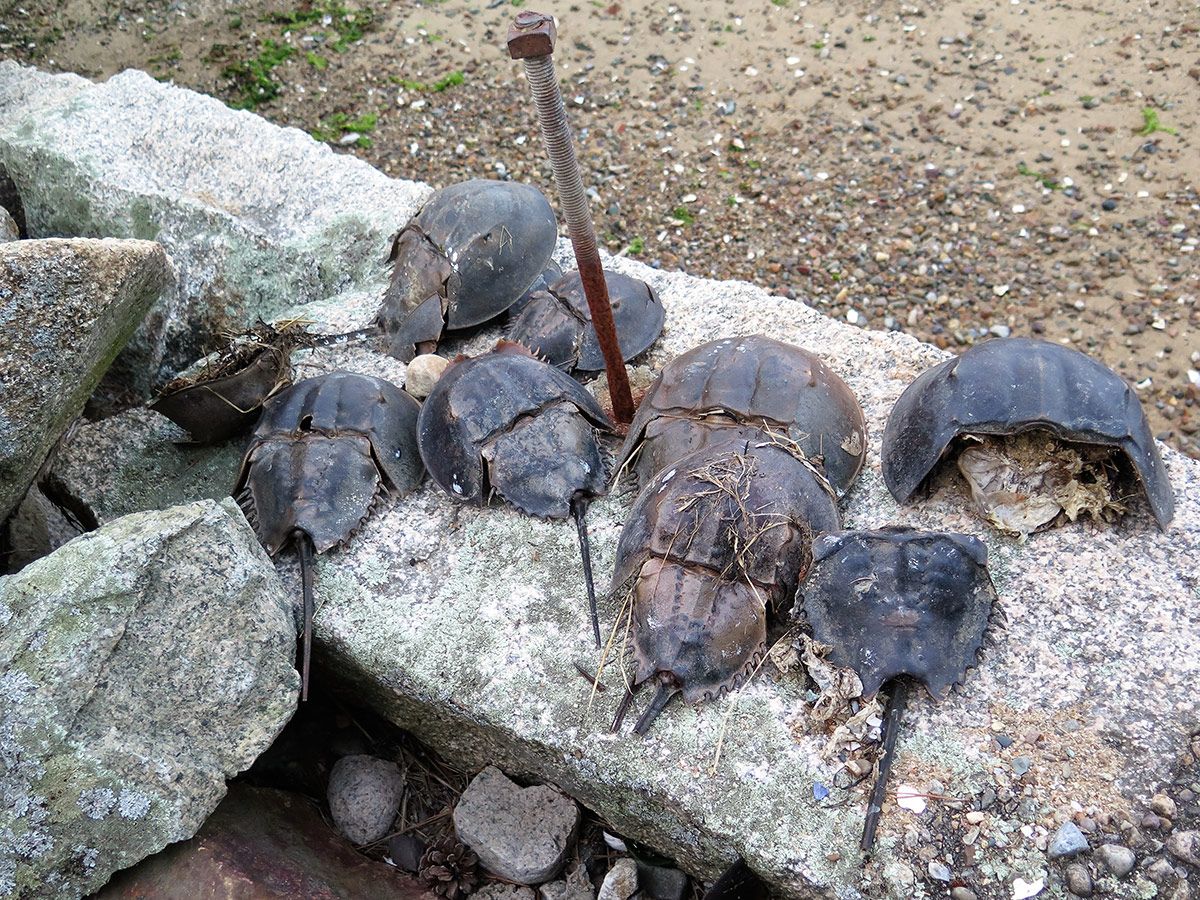 Jane Bumpus Nielsen has been director of the Helen Bumpus Gallery since its inception in 1968. Nielsen organizes the imagery in her four photographs through the collection of like-minded round and oval forms. Mussels, boulders, horseshoe crabs, and pools of blue-violet water cluster together in an organized chaos that both dominates the present and invokes the unknown. In "Horse Shoe Crab," a group of horseshoe crabs have left the ocean to come together on a sea of stone to align, debate and ultimately concur in a community of similar-but-different forms that is a metaphor for working it all out for the greater good.
"The Board Members' Exhibition" at the Helen Bumpus Gallery, an independent gallery located within the Duxbury Free Library is free and open to the public.
Kathleen Trestka is a local visual artist and writer with a studio on the Plymouth waterfront.